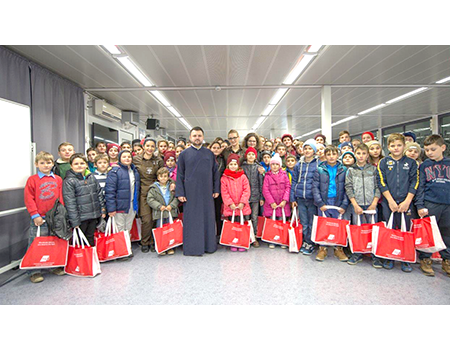 AGS Movers Bucharest supported an event by the Asociata Casa Plina which took place on St. Nicholas Day at the British School of Bucharest, in December 2017. The organisation supports disadvantaged children from the Teleorman region, one of the poorest regions in the country.
The school provided the venue for the event while a local company provided warm meals for the children. AGS Movers Bucharest was happy to participate in the initiative by donating gift bags consisting of chocolates, toys, fruits, cakes and candy to each child.
AGS Movers Bucharest was also excited to be a part of the International Women's Association's (IWA) Christmas bazaar this year.
The IWA aims to promote exchanges between expatriate and Romanian women through meetings, charitable activities and to discover trips to the country. The annual Christmas event brings together representatives of the business world and the diplomatic sphere. The aim of the event was to raise funds to help people from disadvantaged communities.
This year, 49 countries were represented through food stands, crafts and entertainment. Profits from sales and other contributions collected throughout the day were donated to charities in the Bucharest region. The grants will used to support various short-term projects.
AGS Movers Bucharest contributed to the event by means of a financial donation.
Related:
Team Introduction: AGS Bucharest and AGS Coordination
Secure storage for your personal effects – AGS Bucharest