Shipping Parcels
Do you need to move smaller items between France and the French Overseas Territories? AGS Movers has created the AGS Box that allows you to send up to 80 kg to or from any AGS branch in France.
The perfect box to send gifts or move items at the best price.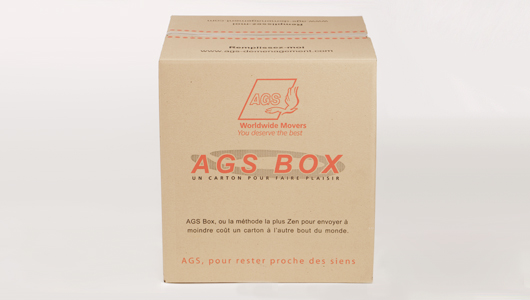 Convenient and affordable, it is the best way to send small parcels between France and the French Overseas Territories with complete peace of mind.
If you are moving overseas for a short or long-term period, the AGS Box is a user-friendly and cost-effective solution for you to consider.
You can also use it to ship gifts to your family or friends.
Immediate benefits:
The best market price*
Easy and smart solution
Safe and Secure
Insurance included, up to a value of 150€
Dimensions of AGS Box: 50cm X 55cm X 60cm
Get a free quote
The Process of shipping parcels
1
Collect your Box from your nearest AGS branch
2
Pack your items, up to 80 kg
3
Hand your box over to your nearest branch
4
Collect your box from the AGS branch at your destination
Which destinations are served?
With our extended network and the large number of moves we conduct between the West Indies, the Indian Ocean and France, AGS offers competitive parcel shipping services at the best price.
Contact us for more information on shipping parcels to your specific destination.