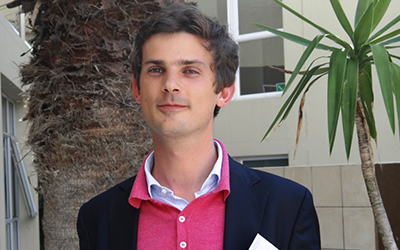 When a FIDI Academy training seminar was hosted in Prague in February – for 16 top-performing students from AGS and 14 international colleagues from other FIDI affiliated companies – it was AGS' Louis Thiercelin who was formally acknowledged by the FIDI Academy as the top student present.
The comprehensive five-day 'Essentials in International Moving' seminar consisted of a classroom session, covering everything from professional packing services and loading to freight forwarding, quotations and contracts and insurance.  Site visits to sea, railway and air-freight terminals were also included.
At the time of the course Louis was Deputy Branch Manager for AGS Movers Morocco (he has since moved to AGS Movers Algeria), and what makes his achievement even more remarkable is that this was the first such FIDI Academy seminar he had attended.
"I was very proud that amongst other competitors it was an employee from AGS who was selected as the top student," says Louis of the recognition. "What made that possible is the fact that AGS' Future Branch Managers' Training schedule is very broad: we really see all aspects of the removal industry and that helps in the FIDI Academy."
Chantal Fera, FIDI Academy's manager, stresses the importance of these seminars, which are held around four times a year (depending on demand).
"The FIDI Academy training seminars are unique because they are developed and delivered by industry experts," she explains.
"Participants gain not only knowledge in all areas of international moving but also they do share their experience with 30 international colleagues and they make friends for life – which also means future business opportunities with trustful agents they know and they have worked with."
AGS Morocco's branch manager, Jean-Noël Boulnois, also congratulated Louis and his colleague Emilie Ducert – who participated in the same seminar and also received the FIDI EiM diploma.
"As AGS Morocco's Branch Manager, I am of course proud of Louis; his success reflects the good training he was delivered by the branch", says Jean-Noël. "The whole team of AGS Morocco congratulates and thanks them for representing us with brio".