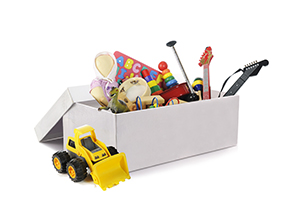 For branch manager Vincent Pilpre, the shoeboxes – gift-wrapped, and bursting with new toys and essential items – were a pleasant departure from the boxes he usually encounters in a working day.
"A local charity asked us for assistance in sorting and storing the shoeboxes for distribution to kids in rural and impoverished areas," he explains.
That charity was Prison Fellowship, an NGO and the local representative of Samaritan's Purse, the US-based charity behind the shoebox initiative known worldwide as Operation Christmas Child. Since its launch in 1993, Operation Christmas Child has collected and delivered more than 188 million shoebox gifts to children in more than 170 countries. Over 550 000 volunteers worldwide assist the organisation in its operations.
Thinking inside the box
Families, individuals, community organisations and churches pack shoeboxes year-round according to a simple formula:
Decide whether the box is for a boy or a girl.
Choose an age category: 2–4, 5–9, or 10–14.
Select one medium-to-large premier item (soccer balls or stuffed animals are always a hit).
Supplement with other toys, hygiene items, and school supplies.
Finished boxes are collected at drop-off points in Australia, Austria, Canada, Finland, Germany, New Zealand, South Korea, Spain, Switzerland, the United Kingdom, and the United States before being shipped around the world.
A committed team effort
"Those shoeboxes were a high point for the children, and to play even a small role in that was extremely rewarding," Vincent notes. "It was a first for us, but I know I speak for everyone at AGS Botswana when I say that we would be privileged to assist Operation Christmas Child again next year."
The AGS Group encourages its subsidiaries to offer their time and resources to communities in need as part of its commitment to the UN Global Compact, of which it has been a member since 2009. "Operation Christmas Child is one of several charitable initiatives around the world that the group will support this year," notes AGS Group Operations Officer Paul Massardier.
If you too want to support Operation Christmas Child, getting involved has never been easier. Simply visit their webpage, and you can build your own shoebox online.