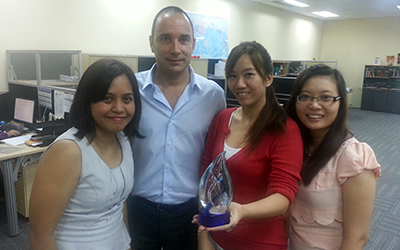 Team spirits ran high after AGS Movers Singapore was awarded the Accountable, Agile & Action Oriented for Results Award at the annual Brookfield GRS Forum in Phoenix, Arizona.
Each year Brookfield Global Relocation Services, a leading global provider of real estate and relocation services, opens the floor for industry leaders to discuss relocation trends, opportunities and challenges. This distinctive event allows the attendees to discuss best industry practices with every member of the relocation value chain. Several brokers, clients and suppliers attended the event, including Yannick Lothou, the Managing Director of AGS Movers Singapore.
Following tradition, the Forum included a salute to all the valued suppliers of Brookfield GRS.  Among them was the AGS Movers Singapore Team, who was awarded the prestigious Accountable, Agile & Action Oriented for Results Award.
AGS Movers Singapore has been providing door to door moving services for Brookfield GRS since October 2008. With one team dedicated to Brookfield GRS, AGS Movers Singapore has grown leaps and bounds, providing excellent customer service.
The award recognised the AGS Movers team for:
Responding to emails/calls in a respectful and professional manner, while injecting a piece of warmth, demonstrating a successful customer focus
High levels of accountable and integrity throughout the moving process
The coordinators' spirit of partnership
Their knowledge of move processes which is impeccable and up to date
"We are delighted that the team's hard work paid off," says Yannick, "Our mind-set is to ease the burden of each client we service."