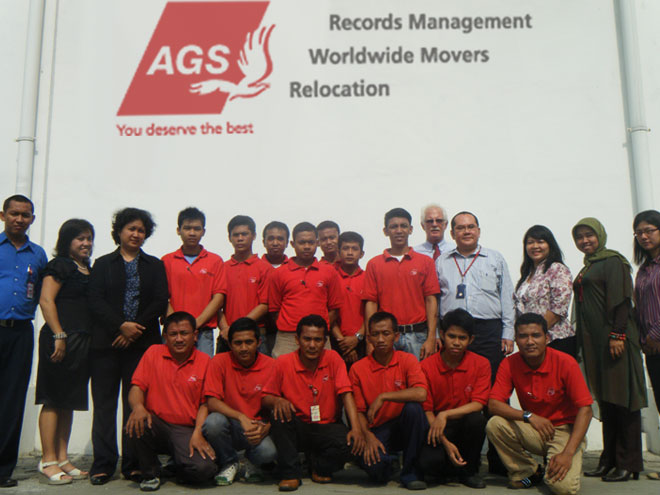 The AGS Movers Indonesia team was recently praised by the CEO of a large corporation for their dedication, efficiency and professionalism while conducting a move from Jakarta, Indonesia, to Muscat, Oman.
In particular, Lyra Romdhoni, a relocation consultant, and the professional packing and international removals team all received a special thank you from this international client.
Cedric Castro, member of the AGS Board of Directors and Bruno Moussey, Regional Director for Asia, awarded appreciation certificates to every AGS Movers Indonesia team member involved in this move.
Ebb Hinchliffe, branch manager of AGS Movers Indonesia, commented,
"I have managed teams in other companies for years in various Asian countries, and I have never dealt with a more dedicated team than the AGS one in Jakarta. This team never ceases to amaze me; whether it is replying to a customer's email on a Sunday afternoon, or being with a client until midnight, they will always go the extra mile."
The AGS Movers Indonesia team has demonstrated countless times that, not only do their services meet international standards, they are always available to deliver friendly, professional services at all times, while making certain that their clients' needs are fully met.
Well done to the team in Indonesia for going above and beyond the call of duty.