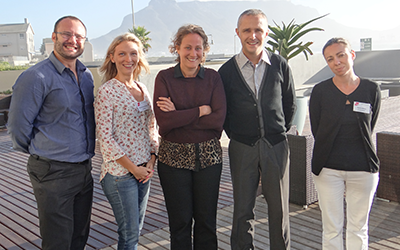 Three up-and-coming AGS branch managers in Africa are validating the confidence that AGS International Movers places in supporting dynamic staff with fresh ideas.
Iris Becquart, Sophie Bidau and Carole-Anne Duchet have a lot in common. All three joined AGS through long-term VIE internships after completing their studies, all three were posted to positions within AGS Movers Africa, and through their hard work and dynamic spirit all three have recently been appointed as branch managers in Africa.
According to AGS' Group Human Resources Director, Christophe Mordelet, the decisions to send young female interns into challenging African business and cultural environments, and later to promote them to manage their respective branches, were neither taken lightly nor without precedents set by other top-performing young interns.
"It was a challenge but I like to always go against the cliché," reflects Christophe.
"Today more than one third of the long-term VIE interns in the group are women. When people are courageous, when they have ideas, and when they like to work – for our chairman they are the keys of success internally in the company."
Challenging Gender Stereotypes
Iris Becquart commenced her internship with AGS in 2008 in a sales role in Uganda, after completing her Master's degree in International Transport, Logistics and Trade. Although she had never been in Africa before, Iris rose to the challenge.
"I've had an adventurous spirit since I was very young, travelling everywhere by myself, so it was encouraging for me to be sharing an experience in Africa," she says. "It was East Africa and at the time it was not a very well-known country, and everything that was not known was actually attracting me."
Sophie Bidau, by contrast, was already engaged in humanitarian work in Niger when she met with the AGS branch manager there, who encouraged her to apply for the programme. Like Iris, Sophie was comfortable working internationally.
"My dad is in the military, so I never lived more than two or three years in the same place," she says.
Carole-Anne Duchet reveals that she'd already been living abroad ever since she was born in Germany, and her whole family share a love of travelling.
"When AGS offered a job to me in Africa, especially since I knew the African continent, I just said yes, no problem," she says. "I just finished my contract in France and jumped on the first plane to Zambia."
Whereas Carole-Anne started off with AGS Movers Zambia and was later appointed in 2013 as the branch manager for the same branch – she describes working in Zambia as a 'love story' – it was somewhat different for Iris and Sophie.
"Between 2008 and 2012 I was on training and moving between different branches. I've been in Gabon, Mali, Benin and then back to East Africa," explains Iris. "You go in different branches with different cultures and different ways of dealing with people – the challenges are the same, but there are different ways of doing things."
Sophie also experienced a number of countries with AGS, starting in Ghana and moving to Angola, then Kenya, then back to Ghana and later to Zimbabwe, where she was appointed the AGS branch manager at the end of 2012. According to Sophie the biggest challenge she had to overcome was adapting to the new rules and different ways of approaching people in each country she worked in, but her gender was never a factor.
"I really think that being a woman makes the work easier. In Angola for example all the feedback I had was that it was impossible, and I found it possible – even if it was tough,"
Sophie explains with a smile.
"Mainly because when the guys didn't want at first to do what I wanted them to, I just had to show them that they were not doing it, I was doing it. They were too proud to let a woman do it, so they finally did the job after all."
Iris and Carole-Anne both agree with her on this point.
"The men really want to support you and to respect you and to surprise you, so I guess there is a communication that is quite different," adds Iris.
"Our activity is challenging, because people mostly waiting for their personal effects are eager to receive their containers," elaborates Carole-Anne. "Usually they will come to my office and want their container immediately. When the people see me it calms them down, and we have open communication rather than anger. I think being a woman aids your conflict resolution, so I take it as an advantage."
Promoting rising stars
Christophe himself challenged norms when he was appointed 18 years ago as AGS' Human Resources manager at the age of 28 – making him the fifth youngest HR manager in France at the time. AGS' Africa and Middle East Regional Director, Guillaume Dehem, provides a similar example – also despatched to Africa on the same long-term internship programme, Guillaume was appointed as branch manager and later given responsibility over the African network.
"For me it's quite normal, and today I motivate and push network managers to recruit and help young people to take positions as branch managers. We are not like many other companies, filling out some evaluation forms saying, 'Yes here, yes here, no here,'"
explains Christophe.
"We are not looking for diplomas: we are looking for people who can always find solutions in the situations they are in. For us it is more important than for many companies, because one third of our network is located in Africa."
CAPTION: At the AGS African Conference in Cape Town, South Africa (Left to Right): Werner Steffen, International Human Resources Manager for Europe, Asia and the Middle East; Carole-Anne Duchet, Branch Manager: AGS Movers Zambia; Iris Becquart, Branch Manager: AGS Movers Rwanda; Christophe Mordelet, AGS Group Human Resources Director and Sophie Bidau, Branch Manager: AGS Movers Zimbabwe.