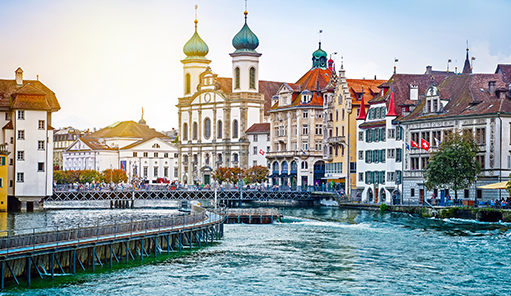 About Switzerland
The Central Plateau, known for its plains, rolling hills, and large lakes, is the most populous region, comprising 31% of the country. The south is dominated by the imposing Swiss Alps, while the north is home to the Jura, a sub-alpine mountain range that spans 11% of the country. Across these distinct regions, you will find four national languages: French, German, Italian, and Rumantsch.
Switzerland boasts a prosperous and modern market economy, with among the highest standards of living in the world. This is evident in the high GDP per capita, exceptional healthcare, and an effective social security system that ensures nobody is left behind. In addition, Switzerland offers high-paying jobs, efficient public transport, and a remarkably clean and safe environment. However, living there can be expensive, and certain costs may come as a surprise.
Top Five Swiss Cities to Live In
Geneva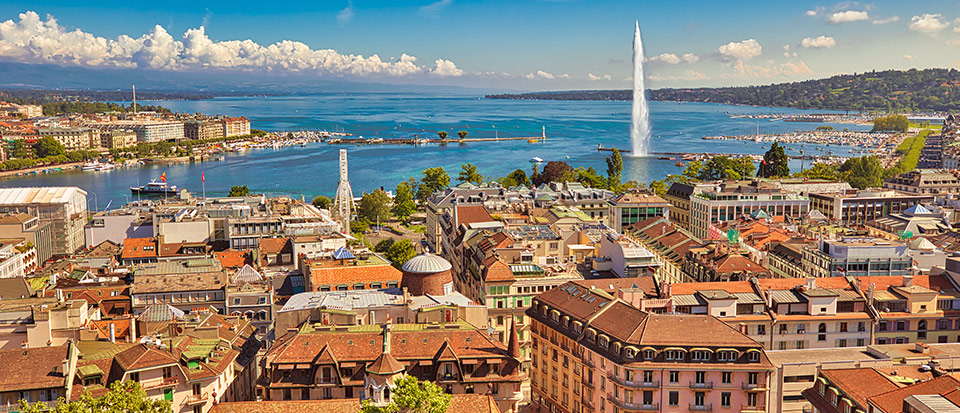 French-speaking Geneva is the second-largest city in Switzerland, with close cultural and geographic ties to France. It is a financial hub and the European headquarters of several multinational organisations such as the United Nations and the World Health Organisation. Home to a vast number of international companies in various industries, there are also a variety of jobs in Geneva. The city has 18 international schools, of which 17 have English as the language of instruction (2023). These include the Institut International de Lancy, the International School of Geneva and Collège du Léman.
Living in this Swiss city is luxurious in every sense of the word, however, with the high standard of living comes a high cost. Considered pricey even by Swiss standards, the cost of living in Geneva is around 12% more expensive than London (2023). The following table compares basic costs between the two cities.
| | | |
| --- | --- | --- |
| Accommodation | GENEVA | LONDON |
| One-bedroom Apartment | £1 778,69 | £1 829,35 |
| Three-bedroom Family Home | £3 781,45 | £3 618,22 |
| Transportation | | |
| Monthly Pass | £62,74 | £153,00 |
| Food | | |
| 1 Litre Milk | £1,40 | £1,12 |
| 1kg Chicken Fillets | £18,98 | £6,69 |
| McMeal from McDonalds | £13,44 | £7,00 |
| Lunch for 2 (3 Course, mid-range Restaurant) | £98,54 | £65,00 |
| Education | | |
| Kindergarten Per Year (Private) | £22 098,18 | £18 401,88 |
| Primary School Per Year (International) | £21 829,40 | £17 933,33 |
| Income | | |
| Average Monthly Salary After Tax | £5 027,97 | £2 546,24 |
Data sourced from Numbeo (2023)
If Geneva is your city of choice, there are some administrative procedures you'll be expected to complete when you arrive. You can find them here.
Fun Fact: The largest lake in Central Europe, Lake Geneva (also known as Lac Léman), fringes the city of Geneva.
Bern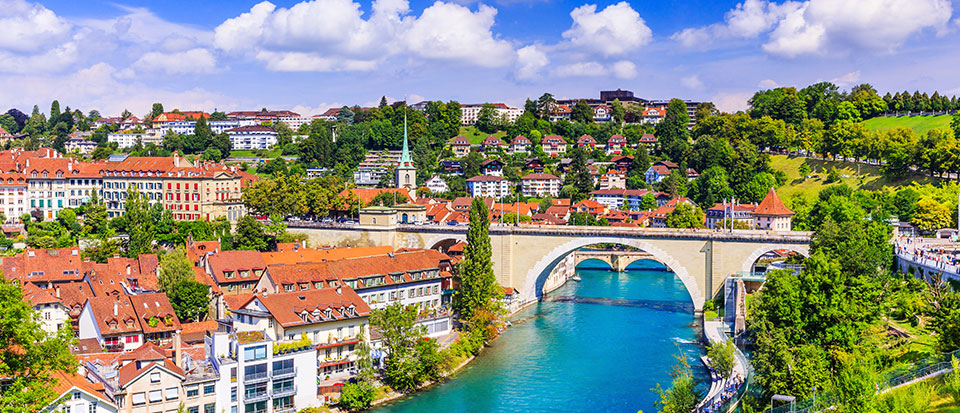 If you're looking for a new place to call home, Bern is another excellent candidate. This German-speaking city, the capital of Switzerland, has something for everyone, regardless of age or background. Although it's 4.4% more expensive than London (2023), you'll find its charm and amenities make it worth the cost. Bern is home to the national parliament and has an extensive public transport system and an abundance of job opportunities, attracting many foreigners, who account for more than 30% of the population. When you need a break, there are numerous cafes, museums, and scenic views to enjoy. Plus, Bern's beautifully preserved old town is a UNESCO World Heritage site, worth exploring again and again.
Fun Fact: Due to its numerous public fountains, Bern is commonly referred to as the "City of Fountains."
Zürich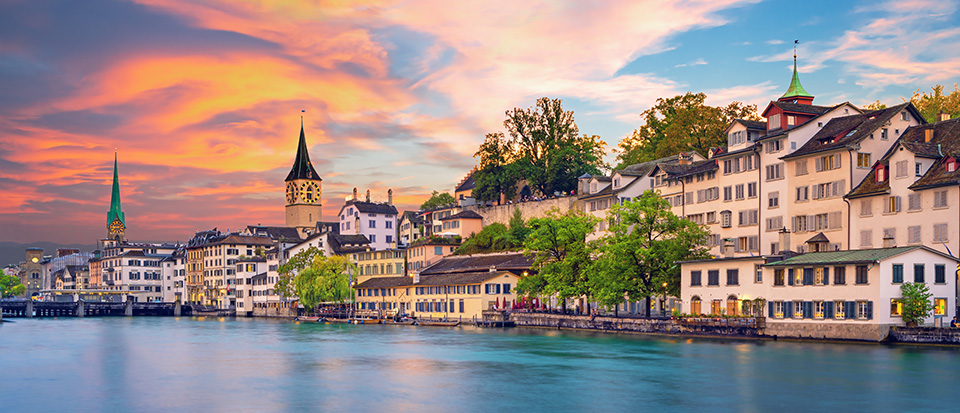 As Switzerland's largest city, with an estimated population of 1.5 million (2023), Zurich is not only a cosmopolitan hub in the centre of this picturesque country, but also a globally ranked financial centre. And although the cost of living in Zürich is around 13% higher than in London, the city provides a high quality of living to justify the expense.
Swiss German is the local language, but English-speaking jobs are plentiful and those with Swiss employment contracts enjoy four to five weeks paid leave per year. Additionally, parents have many English-speaking international schools to choose from, including the Zurich International School, the International School of Central Switzerland, and the Inter-Community School, which offer education for children from ages 3-18. For outdoor lovers, the Swiss Alps are a short hour away, offering endless opportunities to experience nature.
Fun Fact: Zurich has been ranked as "the city with the best quality of life" for over fifteen consecutive years by Mercer.
Basel
Situated on the Swiss border with Germany and France, Basel provides easy access to best that all three countries have to offer. An ancient city full of historic buildings, art galleries and annual festivals, it is no surprise that young professionals from everywhere flock to this vibrant city with plentiful job opportunities. However, depending on your budget and lifestyle, the cost of living in Basel could be expensive – 5% more expensive than London (2023). International schools here are similarly costly – around £27000 per year (2023). Your options for English-speaking international schools in Basel include the SIS Swiss International School Basel, International School Basel and Academia International School Basel.
Fun Fact: Each February, Basel hosts one of Europe's largest carnivals, Fasnacht, which celebrates Swiss culture with costumes, colourful parades, and music.
Lausanne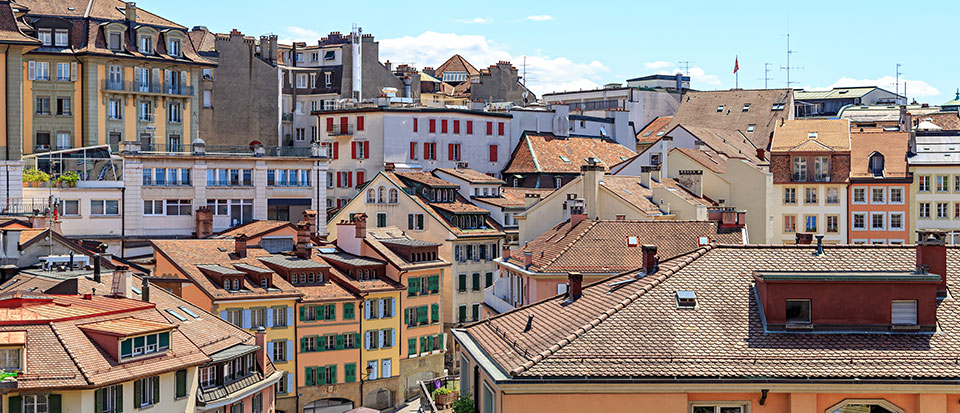 Located at the centre of western Europe is the French-speaking city of Lausanne. As the historic birthplace of the chocolate industry, it offers an astounding array of confectionary, enough to satisfy any sweet tooth. Lausanne is also the most affordable of the five cities featured in this article, only  4% more expensive than London (2023). A large student body gives this bustling metropolis an upbeat and youthful feel. However, Lausanne has so much more to offer than just universities. Residents have their pick of museums, cafés, and bars, while the 500m altitude provides breath-taking views of Lake Geneva and the distant Alps. Indeed, Lausanne provides the rare combination of modern amenities and old charm set against a spectacular backdrop.
Fun Fact: The Swiss Federal Supreme Court and the International Olympic Committee (IOC) are located in Lausanne.
If you need help moving to Switzerland, contact AGS Movers. Our team is experienced in every aspect of international moving, from packing to customs clearance, and can offer you a tailored and stress-free move.