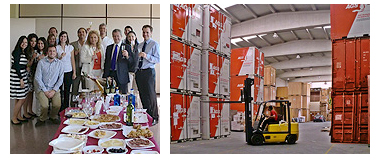 AGS Movers Madrid welcomed the group's chairman, Alain Taïeb, during a recent visit to Spain where he appreciated its new premises and commended the branch on being a top achiever, year after year.
Alain Taïeb toured the ultramodern facility, which is ideally located only minutes away from the airport and Madrid's dry port, and sports a 1000m² warehouse and 400m² of office space.
During his speech, Mr. Taïeb reiterated the importance of having a committed branch manager to steer the team, and congratulated staff on all their successes, including winning a tender for a governmental organization promoting Spanish language and culture worldwide.
But the day did not only consist of business talk. Alain Taïeb and Ido Barner, Regional Director for Continental Europe, took the opportunity to have lunch with the staff at the branch while sampling some traditional Spanish cuisine.
AGS Madrid, created over 18 years ago, remains a model branch, and continues to uphold AGS' reputation as a leading international removals company.  A branch in Madrid and an office in Barcelona cover the country of Spain.