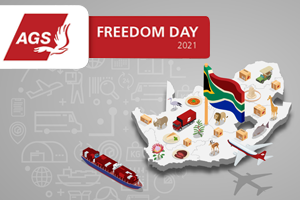 "I have walked that long road to freedom. I have tried not to falter; I have made missteps along the way. But I have discovered the secret that after climbing a great hill, one only finds that there are many more hills to climb.  I have taken a moment here to rest, to steal a view of the glorious vista that surrounds me, to look back on the distance I have come. But I can rest only for a moment, for with freedom comes responsibilities, and I dare not linger, for my long walk is not yet ended."
– Nelson Mandela, from his book a "Long Walk to Freedom"
Today our South African employees and customers celebrate #FreedomDay. This quote not only highlights South Africa's journey to democracy, it also symbolises the journey of life we are all on, including the challenges we face.
Life will present you with your own "great hills," but moving doesn't have to be one of them. We have solutions to move you move you from A-Z, making that part of your journey just a little bit easier.
Happy Freedom Day South Africa.