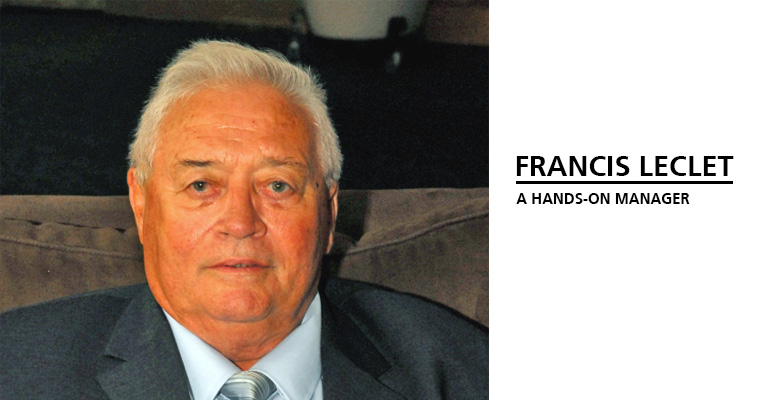 Francis Leclet, Manager of AGS Movers Burundi, has joined the AGS Group in 2000 and has continuously brought his experience and expertise to various countries in Africa.
After spending several years at CODEM-Chad, Francis joined AGS in 2000 as branch manager in Niger and subsequently worked in many other African countries, including Guinea, Central African Republic, Mauritania, Chad, Congo, Burundi, Gabon, DRC and Burkina Faso. Some branches even welcomed him twice, such as Mauritania, Burkina Faso and now Burundi, where he currently occupies the manager position since June 2013.
Francis has many qualities that are needed to run a business in sometimes difficult territories where everyday life can be very challenging. In 2015/2016 the Burundi branch operated in a very tense environment with riots and gunfire taking place almost daily. Half a dozen employees slept at the agency every night, returning home only on Fridays to limit the risks and ensure that the planned work was completed.
Francis has courage as well as the innovative spirit needed by every good leader. When he arrived in Bujumbura, Burundi, Francis noticed that the movers were working with only a few, outdated equipment. He decided to bring all the necessary equipment from Paris, to offer a quality service worthy of AGS, even if it meant temporarily burdening the budget of the agency.
Francis is fully committed to the growth of the branch which, according to him means to be "thoroughly and completely involved in everything in the field and with every task."
Expecting the same commitment from his employees, Francis trains them so that they are versatile and able to perform all duties required. Investing in your employees is not a short-term investment: "Employees who learn to develop their employ-ability gain confidence, improve performance and grow in loyalty." Francis keeps a patriarchal benevolence when it comes to the safety of his employees; he insists that his administrative staff do not work late at night, preferring them to start early the next day: "Leaving late at night is too risky for their safety," he said.
Francis adds that AGS is his second family and gives him the support he needs at certain times. "Working for AGS enabled me to have health coverage that I did not have when I worked for CODEM Chad. When my health was problematic in Niger, without repatriation and care, I would have been a dead man. Management has always responded and supported me in the most difficult moments."
The AGS Group would like to thank Francis for his hard work and commitment.