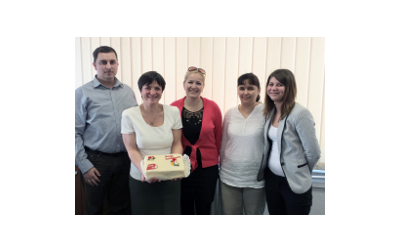 The link between long service and quality was admirably reinforced recently as AGS branches worldwide continued receiving the prestigious FAIM Plus accreditation.
When AGS Movers Budapest's Branch Manager, Ingrid Lamblin, was notified on March 27 that her branch was the first removal company in Hungary to be FAIM Plus accredited – a quality-certification issued by the International Federation of International Movers (FIDI) – she had numerous reasons to celebrate.
Not only did the branch audit take place on her birthday in March (Ingrid's staff presented her with an AGS-branded cake as a unique commemoration) but April 1 marked her 14-year work anniversary with AGS.
Coming from a background of international transportation and sales, Ingrid joined AGS in 2000 in a sales role; and in 2007 was appointed as Branch Manager of AGS' branch in Budapest. Following this she was also President of ADA-Europe for two years.
AGS Belgrade now also FAIM PluS
As was detailed in the feature article in the March AGS newsletter, when AGS branches are ISO 9001:2008 accredited and renew their FIDI Accredited International Mover (FAIM) certification they are now being audited under the more stringent FAIM Plus standards.
This is what makes AGS Movers Belgrade's achievement – another branch to have been newly accredited with FAIM Plus on April 4, and also the first removal company with this status in Serbia – particularly important.
Alexandre Lebègue, AGS' Senior Group Quality Manager, congratulated AGS Belgrade's Branch Manager Vladan Jankovic after the branch's FAIM Plus accreditation was obtained with a 100% compliance rating – a strong recognition of the branch's service quality.
"This award is simultaneously a great encouragement and obligation, and is the result of many years of hard work from the whole AGS Group," Vladan commented on the FAIM Plus certification.
"As a fully dedicated team, Vesna, Bojan, Saska and myself will continue in the most effective way to provide the best quality services in a manner which is friendly, on time and with highly professional cooperation in order to fully meet all customers' expectations."