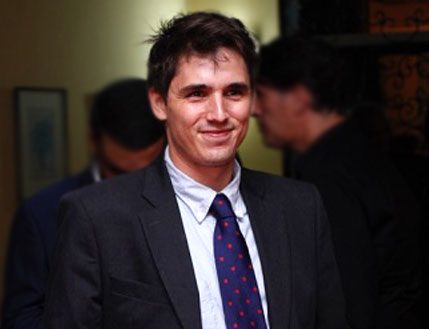 Article initially appeared on the French Embassy's website in Cameroon.
As part of its exchange programme, France has created the International Volunteer in Enterprise (V.I.E.) initiative which offers young graduates a professional mission abroad. Please meet Antoine, V.I.E. for the AGS Group in Yaoundé, Cameroon.
Antoine, can you introduce yourself and talk about what led you to Cameroon?
I've always been very curious to discover the world. During my studies at the University of Sorbonne in Paris, I seized the opportunity to live abroad as an exchange student. I spent a semester in Canada before finishing my studies while I lived in Taiwan, and I was officially bitten by the travel bug. At the end of my master's degree, I landed a one-year assignment at the National Olympic and Sports Committee of Rwanda. It was a very rich experience and led to another 6-month contract at an NGO. The year and a half in Africa aroused my curiosity and I searched for ways to return to the continent.
The V.I.E. missions seemed to be the perfect fit and were in line with my career aspirations. The missions provide comfortable living conditions as well as financial means and offer a reasonable commitment period – up to 2 years. It was also the ideal opportunity for me to take the first step into the private sector while discovering life in a new country.
I'd like to think that I didn't choose Cameroon, but that Cameroon chose me. I applied for a wide variety of missions in many countries and finally ended up at AGS in Yaoundé. My attention was not necessarily or intrinsically set on the country, however, in hindsight, Cameroon offers a large number of professional and personal challenges. Doing project management in a country where "yes" does not necessarily mean "yes", "no" does not mean "no", and "tomorrow" means "one day maybe", there is no doubt that I learned a lot.
What is your mission at AGS?
My assignment at AGS includes a combination of public relations, customer portfolio management and logistics coordination. In the international mobility industry, a large part of the market is acquired by image and trust. Our clientele in Yaoundé mainly comprises of diplomats, representatives of the United Nations and those of big international NGOs. My role is to interact positively with these embassies and organisations, formally or otherwise, during a business meeting or even leisurely events, such as a round of golf. As a result, they will spontaneously think of AGS when they move one of their postings. Once the move is underway, I take care of negotiating the best prices with our suppliers – carriers, charters, freight forwarders – and coordinate all stakeholders, from packaging to delivery to destination.
What are the activities of the AGS Group in Cameroon?
AGS is one of the world leaders in international removals and has been operating for over forty years. The company is physically present in all 54 African countries and offers furniture storage services. Gradually, the group is developing records management and heritage digitization activities which offers protection and conservation of historical heritage in the countries where the company operates. In Cameroon, AGS is present through two agencies: one in the economic capital in Douala, which interfaces with the port, and a second in Yaoundé, the administrative capital, where I have been working for the past 18 months.
Can you offer any tips to young graduates who are still hesitating to choose V.I.E?
For a young graduate, it is normal to hesitate to take the first step, but I'd like to encourage them to get out of their comfort zone, to leave for a new country without a landmark. It brings great satisfaction once this step is done. The V.I.E. programme is perfect to go abroad for a few years and have the opportunity of your first professional experience. It allows you to live abroad in excellent conditions and often offers a level of responsibility that has no equivalent in France. In my opinion, it is a real professional and personal springboard. Moreover, volunteers are never left to their own devices. They are usually welcomed by their company, while Business France makes every effort to facilitate their arrival and integrate them into the "network" of volunteers. My interactions with Business France also allowed me to meet interesting personalities and high-level decision-makers whom I can now count into my network.
If you are 28 years or younger, I'd like to urge you to start your V.I.E. journey before it's too late!
The final word?
I'd like to thank AGS for believing in me, as well as Business France for supporting me so well. If I had to do it again, I would not hesitate for a second.
Read the article on the French Embassy in Cameroon's website