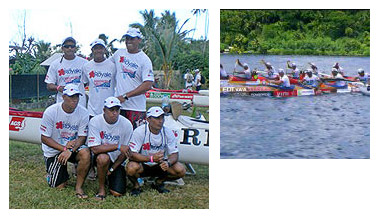 The 9th Admiral Trophy race, which took place on 4 June, was sponsored this year by AGS Movers Tahiti, one of the first AGS branches to be opened outside France. Since its creation in 1986, AGS Tahiti has established strong links with the local communities.
This pirogue canoe race is one of the  major events of the season and is given high media coverage in Polynesia and around the world. Every year, over a hundred teams compete equipped with pirogues, or more precisely, Va'a, a Samoan and Tahitian word meaning boat. The teams comprise both locals and expats.
The trophy is awarded every year to the best civilian and military teams. More and more renowned companies and clubs are participating in this race.
The branch manager of AGS Tahiti, Jean-Pierre Delalande, saw this event as an opportunity to demonstrate the branch's involvement in local social affairs, and to support a sport which is integral to Polynesian culture.