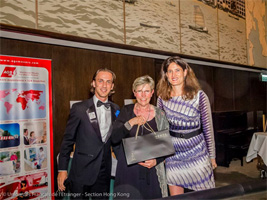 AGS Movers Hong Kong, longtime partner of  the Union of French Citizens Abroad (Union des Français de l'Etranger or UFE) of Hong Kong was the main sponsor of the gala dinner held at the Hong Kong Club in support of Fond Associatif de Solidarité' (the Associative Solidarity Fund).
This charity event took place Friday, 8 June 2012. Amongst the hundreds of guests, Gregory Seitz, Managing Director of AGS Movers Hong Kong and member of UFE, and Agnès Humruzian, General Consul Deputy in Hong Kong were present.
During the gala, funds were raised with a raffle for the 'Fond Associatif de Solidarité' which gives financial assistance to French people and their dependents in need, who are living or travelling in Hong Kong.
This evening was a wwwament to the growing support within the strong expatriate community of 15 000 people in Hong Kong.
AGS Movers Hong Kong was pleased to contribute to the development of this project and already has plans to support the UFE in its upcoming events.