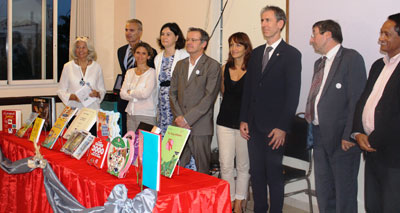 AGS Movers France and AGS Movers Madagascar recently participated in a charity operation for the promotion of French-speaking culture, with ADIFLOR, an association dedicated to the international distribution of French-speaking books and magazines.
Created in 1985, ADIFLOR aims to promote reading and cultural diversity around the world. The association donated 11,000 new books to the Alliances Françaises in Madagascar and the Madagascar library. The association handed over the books to the Malagasy beneficiaries at the 16th Summit of the Francophonie held in Antananarivo in November 2016.
The official donation ceremony took place on 23 November 2016 at the premises of the Alliance Française of Antananarivo, in the presence of Gilles Tonelly, Minister of Foreign Affairs and Cooperation of Monaco, several representatives of the Alliance Française, Christine de Gunzbourg, ambassador for ADIFLOR, and Fabris Grujic, Manager of AGS Madagascar.
AGS, together with the Monaco Government, assisted with the transportation of the cargo from Le Havre to Antananarivo. The 11,000 books, which were distributed amongst the 29 French Alliances of the island, will fuel the thirst for learning from some 42,000 members of the Alliance Française network and thus promote the teaching of French and the development of schooling.