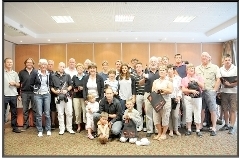 Every year AGS Movers Troyes, directed by David Corpel, sponsors the AGS International Movers – Devitry Champagne Cup.
The event, co-sponsored by Devitry Champagne, took place on Sunday, on 24 June at La Forêt d'Orient Golf Club in Rouilly-Sacey, near Troyes in the Champagne region of France.
The competition brought together nearly 100 participants and took place under overcast yet pleasant weather.
Not to break with tradition, the competition was marked by a sporty but friendly and relaxed atmosphere.
At the end of the tournament, the participants were rewarded by AGS with several prizes including golf balls, bags, garment bags for clothing and polo shirts.
The participants were delighted with this generous donation and thanked AGS warmly for this sponsorship.