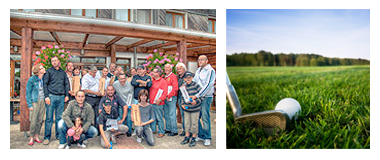 The AGS Movers – Champagne Devitry Cup (Coupe AGS Déménagements – Champagne Devitry) took place on Sunday, 19 June at the la Forêt d'Orient Golf club in Rouilly Sacey, close to Troyes in the Champagne region of France.
AGS Movers Troyes, managed by David Corpel, sponsors the event every year in partnership with Devitry Champagnes.
On Father's Day, 80 players met in spite of impending bad weather and strong winds. The weather, however, did not put a damper on the warm and relaxed atmosphere.
The various participants were rewarded for their efforts with numerous prizes. A nine year-old boy set himself apart by accomplishing his first round of 18 holes and finishing first in the 4th series with an admirable score of 48 points.
Thank you AGS Movers Troyes for sponsoring this annual regional event which encourages young talent.