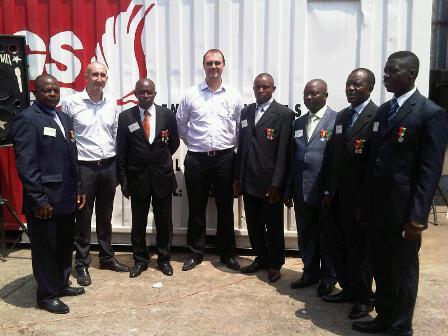 On 30 May, six staff members of AGS Movers Cameroon were presented with awards for their years of good and faithful service to the company.
The official ceremony took place with a local government official, the Sub-prefect of Douala, Guillaume Dehem, Network Manager of AGS Movers Africa, Hervé Christien, Manager of AGS Movers Cameroon, and Albéric de Colnet, Sales Manager for AGS Movers Cameroon.
The Sub-prefect presented:
3 medals to Tchoko Amang (gold for 25 years of service, silver for 15 years service, and vermeil for 10 years of service);
2 medals to Monkam Charles Tchouassi (silver and vermeil);
2 medals to Léon Hilaire Tchouamo (silver and vermeil) ;
2 medals to Maurice Cheumeni (silver and vermeil);
2 medals to Maurice Nguimgo (silver and vermeil);
1 medal to René Guy Nanga Tsimi (silver).
A toast to the honoured employees closed the ceremony.
Our congratulations to AGS Movers Cameroon's employees for working with such diligence and care. These staff members have built up a reputation for quality which has made AGS an outstanding mover in Cameroon.