Last June, the Service de Coopération et d'Action Culturelle (SCAC) in Nairobi sent AGS Kenya an unusual request: receive 50m3 of sensitive audio-visual equipment from France and deliver it to cultural centres around Kenya.
Complicating this undertaking was the country's mountainous terrain in the west, which requires special expertise in transport and logistics to navigate. Spurred on by the challenge, the AGS Kenya team started planning the operation.
Preparation is the key to success
"The fragile equipment used in cinemas and amphitheatres had to be transported with care. We also alerted our insurance company to ensure that the value of the operation was covered," says Célia Richard, AGS Kenya's Sales and Business Development Manager.
Upon arrival at the Port of Nairobi, AGS repacked the equipment, depalletised and grouped it according to its destination. In total, the AGS team would make six deliveries: two in Mombasa, and one each in Lamu, Kisumu, Nairobi and Nakuru.
Put to the test on a paradise island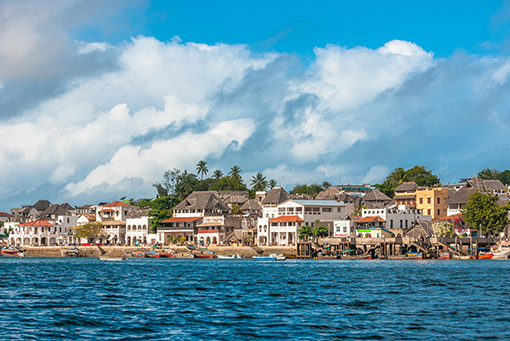 The delivery to Lamu posed unique challenges. Located off the Kenyan coast, the island is over 500km away from Nairobi and is strictly car free. "The half-hour ferry trip was challenging, but guiding a hand-drawn cart loaded with fragile cargo through the sand was the true test of our skills. Fortunately, the delivery address was not far from the jetty," says Célia.
Since the 1960s, in the wake of eccentric jet-setters like Mick Jagger, Lamu has become a popular tourist destination. Today, 80% of the island's economy is based on tourism. The old town is a UNESCO World Heritage Site. Despite this, time has left the island largely unchanged. Here, luxury lies in simple pleasures: fresh fish cooked on the grill, mangoes and papayas eaten barefoot on the beach and spectacular sunsets.
"The complex logistics involved make deliveries to Lamu extremely rare," adds Thibault Malezieux, Director of AGS Kenya. "The team's coordination was incredible, and we were thrilled to see the outcome!"
Country-wide, the operation only took a few days, and by the 21st of June, everything was delivered. As planned, the Lamu Cultural Centre was inaugurated in July by the ambassador of France to Kenya.
Do you need assistance or advice on your move to Kenya? Contact us!