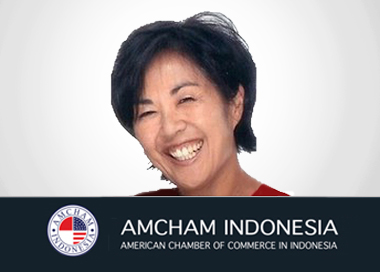 AGS Movers Indonesia Manager, Kathy Scalabre, has recently been elected to the board of the American Chamber of Commerce in Indonesia (AmCham), and will serve for the duration of 2018 to 2019. Kathy is one of six members to join this highly esteemed committee.
AmCham Indonesia is a voluntary organisation of professionals with commercial activities in Indonesia. Its central mission is to promote US-Indonesia commercial relations and to serve its members as a key resource for information and business networking. Formed in 1971 as a committee, AmCham Indonesia has grown to hundreds of members representing more than 250 companies.
An American working overseas for over 20 years, Kathy has always trusted AmCham as the go-to business anchor for national trends, regulations and forecasts when operating internationally. When she was stationed in Seoul, South Korea (2000-2007), she worked closely with AmCham as the American Women's Club President and the Chair of the Professional Women's Network, as well as being an active member of FAWCO (Federation of American Women's Clubs Overseas) which represents American women living overseas.
Originally from Chicago, Kathy has been stationed in Jakarta for a year but has lived in France, Italy, Austria, Switzerland and Korea. "This is a really exciting opportunity for me to create close knit relationships with the business community of AmCham which allows me to promote AGS among the foreign and American business community of Indonesia."
Kathy joined AGS Movers Indonesia in December 2016 after an international career with Crown Relocations and SIRVA. She brings to AGS a wealth experience in GMS and RM. Additionally, she brings with her a personal experience as an expat who has moved more than 15 times across three continents, speaks five languages.