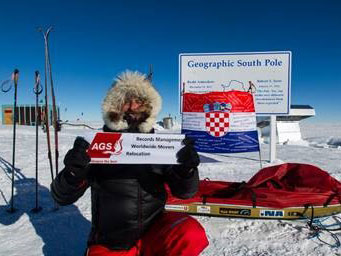 The Croatian writer-adventurer-photographer Davor Rostuhar has become the first Croatian to complete a solo expedition to the South Pole! Friend of our AGS Movers Zagreb team, he didn't forget to send his greetings from the harsh and snowy Antarctica, where he ended his expedition on the 17th of January.
Davor covered a total of 1163 kilometers, from Union Glacier base across Antarctica. His journey lasted 47 days, walking around 25 kilometers a day.
Unsupported through the whole expedition, he relied on his own physical prowess and fortitude, and succeeded in this incredible challenge, despite facing extreme temperatures as low as -50° Celsius.

He will soon publish a book about this marvellous adventure, that took him from his motherland Croatia to the "end of the world", where he kindly showed his support of our group by taking a selfie with an AGS flag.