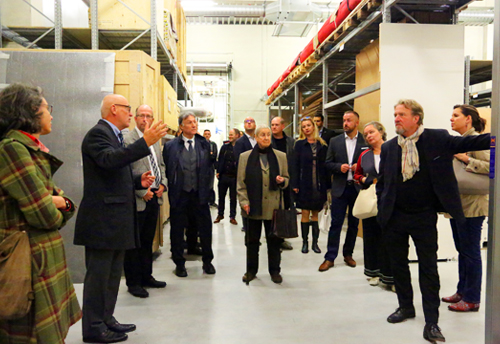 AGS Movers Berlin, in partnership with the Association of Galleries of Berlin, recently hosted a momentous evening event entitled 'Art and Culture Meets AGS Froesch Berlin'. The event, which took place on 19 October, was attended by distinguished guests including several owners of art galleries within the area.
The evening kicked off with a tour through AGS Froesch Berlin's logistical facilities and art warehouses. Guests were then taken through the logistical processes, digitization options and customs, followed by an in-depth look at our heritage imaging processing, which was presented by Arkhênum International Project Manager, Laurent Bidet.
Colleagues of our Fine Art Office & Technical Team showed guests the different types of packing material and demonstrated the skills of the department during Fine Art operations. The evening concluded with a networking party and barbeque at the headquarters of AGS Froesch in Grossbeeren.
"This event allowed us to showcase the expertise of AGS Froesch Berlin and we were very excited to have the opportunity to share a glimpse into our operations, state of the art storage facility and our talented team. Events like this gives us an opportunity to strengthen our relationship with our customers and we will continue to deliver the high levels of service that our customers have come to expect from AGS Froesch Berlin for their moving and storage services,"
AGS Froesch Berlin Manager, Klaus Meyer said.