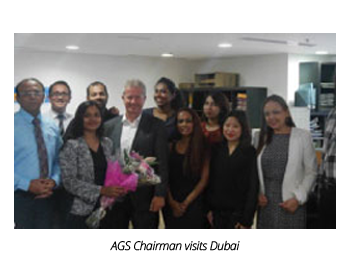 AGS Supervisory Board Chairman, Alain Taïeb visited the Dubai branch in the United Arab Emirates on Wednesday, 07 September. The two UAE AGS branches, Dubai and Abu Dhabi, have grown significantly since their opening in 2011 and Mr Taïeb commended UAE country manager, Zia Husain on his sterling job and contribution to the business growth.
Mr. Husain believes 2016 to be AGS Dubai's most successful year to date, with the branch expecting to further increase its permanent staff members in 2017. The branch has built its business considerably since inception and its objective remains to be the most-preferred moving company in the Middle East, Mr Husain said. AGS Dubai and AGS Abu Dhabi complete around 20 to 25 moves per day in the summer.
The Dubai and Abu Dhabi branches have also decided to combine their activities and now share one warehouse which is easily accessible to both branches. This has proved to be a productive operational decision and the group believes it will result in long term cost-effective solutions for its customers.
Mr Taïeb remains highly optimistic about the future of the UAE branches and reiterated that the AGS Group will continue to support and assist them. Mr Taïeb was joined by the Group's 2015 Top 12 Managers when they visited Dubai at the end of October.
The Top 12 Managers initiative was established in 2010 and represents the best performing branch managers for the past year. They've been selected based on a specific set of criteria and proved to be the group's most excellent performers based on their wealth of experience, expertise and excellence, among other qualities. The relaxed, casual vibe of the trip to Dubai did enable managers an opportunity to engage with each other and build relationships outside of the work environment. Together with their partners, the Top 12 Managers visited some of Dubai's most renowned tourist destinations after the customary half day workshop, spent sharing the reasons of their respective success.