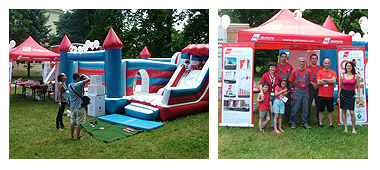 In July, AGS Movers Budapest lent a helping hand to the Union of French Citizens Abroad.
As a company that maintains close ties to its clients and their families, it was the natural choice to assist the organisation during its Family Day in Hungary.
AGS Budapest sponsored a jumping castle and toboggans (sleds), and was delighted to see the children's faces light up. The event took place at the Fehérvárcsurgó Károlyi palace, where a host of activities entertained both adults and children alike. These included a traditional barbecue and petanque (boules) tournament.
At AGS, we know that children are very important and sensitive during a move. For this reason we provide a guide that clients can access on our website to make the move easier for their children. The guide provides helpful hints, and includes tips like helping children learn about the new country, packing their favourite toys or games before leaving, and making them feel part of the move.
Helping the Union of French Citizens Abroad not only strengthens relationships between France and Hungary, but gives AGS Budapest the opportunity to join families and show them that we care.
With 141 locations in 94 countries, AGS moves over 75,000 families every year. With AGS Budapest, all our clients deserve the best.