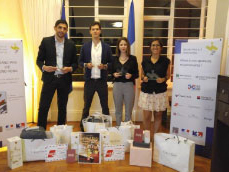 AGS Movers Hong Kong sponsored and participated in the fourth VIE Grand Prix Hong Kong event, which ended in an awards ceremony on 24 May. Organised by Business France Hong Kong and the French Foreign Trade Council, the event aims to highlight interns' experiences and emphasise the importance of the programme to French companies.
The French International Internship Programme (VIE or Volontariat International en Entreprise), enables students and young graduates seeking employment, an internship opportunity at a French-based company overseas, for a period of six to 24 months.

To take part in the VIE Grand Prix Hong Kong 2016, candidates had to produce a written document or video, showing their involvement in the company and illustrating what the programme represents to them, both personally and professionally. They also had to answer the following question: "How should the image of France in Hong Kong be effectively promoted, especially in one of these five priority subject areas: health, sustainable city, food processing, new technologies and tourism?" Four prizes were given including: SMEs, Major Groups, Bank and Finance Sector, and the Coup de cœur (Judges' Choice) award.
AGS Movers Hong Kong participated in this event both as an official sponsor, offering an air parcel service coupon up to HK$ 1500 to each one of the four winners, and as an organiser. Grégory Seitz, AGS Hong Kong Branch Manager and French Foreign Trade Advisor, was also a judge on the selection panel. Appointed as a French Foreign Trade Advisor in 2013, Grégory Seitz is involved in numerous activities concerning French economic interests internationally.
"I'm always eager to bring my expertise of international relocation and logistics to the French business community in Hong Kong," Gregory said.
It was this natural for Gregory to actively engage in the Grand Prix which seeks to reward young talent.
"With AGS being a company that gives interns opportunities within its own network, it was important to me to play an active role in the organisation of this event. Being on the judging panel enabled me to realise the potential of young French people."
This international event offered an exceptional opportunity to meet influential personalities from large companies and the business world in general, and allowed young graduates the chance to develop a network of useful contacts as they begin their professional careers. We hope that the four winners will take full advantage of it.
– The SME Prize went to Christophe Castallino from Bon Colac.
– Major Groups Prize rewarded Grégoire Xerri from Bouygues Dragages.
– The Bank and Finance Sector Prize was awarded to Nassima Benziane, from Natixis
– And Fanny Radrigan de la Fuente received the "Coup de Coeur" Prize.
AGS wishes the winners all the best to achieve their dreams!