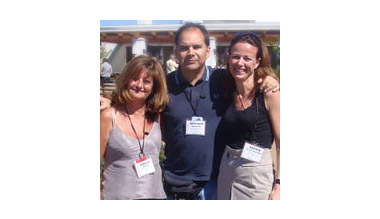 AGS joined over 100 removals companies in Santiago, Chile, at this year's annual Latin American & Caribbean International Movers Association (LACMA) Convention, and was honoured by the appointment of Joëlle Castro, AGS Global Agent Development Director, to LACMA's Coordinating Committee of Europe.
The convention, which took place from 20 – 23 March, 2011, brought together major players in the international removals industry.  In her new position, Joëlle and her fellow commissioners play a pivotal role in deciding which companies join the association.
Highlights of the convention included a new LACMA president, Laura Ganon, the first female president elected since the creation of the association, and a panel discussion on the future of international moving by several big names in the industry.
In addition, for the first time ever, associate members could vote to decide where the next convention would take place. They were also permitted to express their views on whether to accept relocation companies' membership to LACMA or not. Usually, only active members are allowed to vote.
Joëlle represented the Group at the convention with Antonio Gonzales, AGS Movers Spain Manager and Sophie Lucas, Vice President of Agent Relations at AGS Movers Paris.
LACMA is an independent association comprised of international removal companies mainly in Latin America and the Caribbean, but also has members across the world. It aims to unite removals companies in the region while representing their interests globally.
The 2012 LACMA convention is expected to take place in Curacao in the Caribbean.