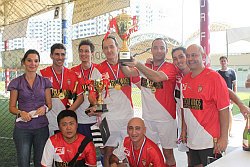 AGS Movers Wins Football Tournament Movers Singapore was the main sponsor of the French Chamber of Commerce's annual Futsal Tournament for the second year running.
The tournament was held at the Fico Sports Hub in Singapore on 16 October, 2010, and proved to be a success with a large turnout of spectators, and players representing a number of French companies with the likes of Total, SDV, Thales, Société Générale, Alstom, and of course, our very own AGS Movers Singapore.
Led by branch manager, Yannick Lothou, the AGS Movers Singapore team seized the day and was victorious.
The atmosphere was electric as 20 teams plied their way through the tournament, with each team playing four games of 13 minutes each.
Owing to its keen sense of team spirit, AGS Movers Singapore remains ahead of the game, both on and off the field and has dedicated itself to sponsoring the event again next year.