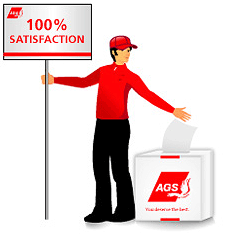 What makes perfect customer service?
Mr GoodMove, the AGS ambassador of quality, is constantly monitoring all the branches in the AGS group, to ensure top quality customer service is provided whatever the circumstances. In the removals industry, we must deal with many situations outside of our control.
Our Quality Ambassador is on hand when customers need extra support or reassurance, and works with the AGS branch and client for issue resolution and a positive outcome. Mr GoodMove makes sure clients
are continually kept updated until complete satisfaction is reached. AGS branches are then evaluated not just for perfect service, but for how the matter was dealt with.
AGS would particularly like to highlight the following branches as being exemplary in their customer service provision in 2011: AGS Movers Codem Yaoundé, AGS Movers Cameroon, AGS Movers Rwanda, AGS Movers Beijing & Shanghai, AGS Movers Chennai, AGS Movers Philippines, AGS Movers Slovakia, and our Brest, Lorraine – Luxembourg, Poitiers, Strasbourg-Alsace, Tarbes and Troyes branches in France.
Mr GoodMove was implemented in 2009 to help branches measure and further improve their customer service levels and quality performance.  We have seen a marked increase in the satisfaction expressed by our customers since this additional customer service initiative was put in place.
Our customer satisfaction ambassador, Mr GoodMove, is available by email at mrgoodmove@agsmovers.com.