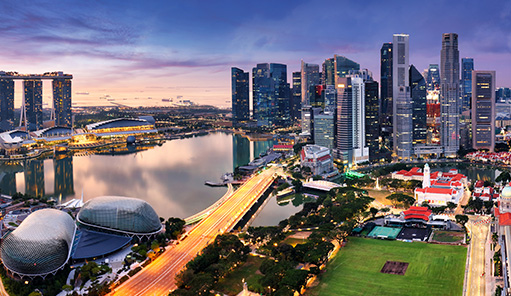 To help you prepare for life in the fast lane, let's dive into what you need to know to make your move to Singapore a breeze.
Singapore's Cultural Blend and Settling In
The Republic of Singapore is simultaneously a city, an island, and a country. It's one of just three city-states left in the world, made famous by its emergence as a major international hub for business and innovation.
English is the common language used for business and administration and is widely spoken. Nevertheless, Singapore is a melting pot of cultures – Malay, Chinese, Indian, and more – and you can expect a vibrant cosmopolitan society that incorporates the diverse traditions (and incredible cuisines) of its residents.
When it comes to customs, Singaporeans value courtesy and politeness. Things like taking off your shoes indoors and giving a polite nod to elders are a big deal, and respecting these customs will smooth the way as you settle into daily life.
Singapore's Visa Requirements
Before you move, however, you need to sort out your visa or permit. The type of visa you need will depend on the purpose of your move, such as employment, study, business, or accompanying a family member. Here are some common visa options:
The Employment Pass (EP) is for foreign professionals and skilled workers, and you will need a job offer from a Singaporean employer to apply for an EP. The S Pass is for mid-skilled workers, while the Dependant Pass (DP) is for family members of EP and S Pass holders. If you plan to study in Singapore, you will need to apply for a Student Pass (STP) which requires an acceptance letter from a recognised educational institution.
The Immigration and Checkpoints Authority (ICA) and the Ministry of Manpower (MOM) are the go-to authorities for immigration matters. Applying for a visa involves submitting the necessary documents, including a valid passport, an offer letter (for employment or study), your educational qualifications, and proof of financial stability. Make sure to adhere to the guidelines and timelines provided by these authorities to ensure a smooth process.
Budgeting Basics
Singapore has held the title of the world's most expensive city for expats four times in a row, which tells you that living there isn't cheap. Nevertheless, your salary should take that into account, and with some careful planning, you will be able to manage your expenses. Think about housing, transport, healthcare, and international school fees for your children – they all add up.  If you're interested in comparing the cost of living in Singapore to other countries, check out Numbeo.
Staying Healthy: Doctor Visits and Health Insurance
You can expect top-notch medical care thanks to Singapore's government and publicly funded universal healthcare system. Take a look at the different plans and find one meets your medical needs. As a permanent resident or a family member of one, you can benefit from MediSave and MediShield Life. It's important to note that, unlike the NHS, Singapore's system requires you to pay monthly contributions to a healthcare savings account, allowing you to access medical services at discounted rates.
Public transport in Singapore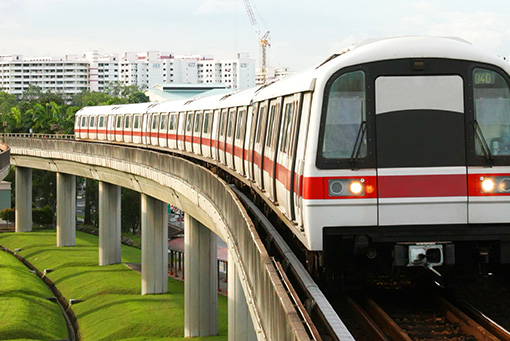 Getting around Singapore is a breeze thanks to the MRT system and buses that dot the island; it's also cheap and efficient. Just as well, because buying a car can be an expensive exercise, both because of the high taxes and the limited parking available. As a car owner, you'll also have to get a Certificate of Entitlement (COE), which costs nearly as much as the car itself. If you're not sold on public transport, don't worry! Singapore also has cycling paths which are well-connected, and you are able to rent bicycles from licensed operators.
Office Life and More
Singapore's work culture is all about professionalism and punctuality, which may take some getting used to. That said, it's also great for networking opportunities, and knowing and understanding the culture is sure to give your career a boost.
Fun Facts About Life in Singapore
Chewing gum is nowhere to be found in Singapore. Except for dental gum, which is sold on prescription, its sale has been banned on the island since 1992.
The innovative architecture of buildings in Singapore often features lush greenery on their facades, contributing to the city's reputation as a "City in a Garden."
Singapore is made up of 63 islands, with the main island being the largest and most populated.
The English name Singapore comes from the Malay name Singapura which is believed to have been derived from Sanskrit meaning "Lion City".
The Merlion statue, half-lion and half-fish, is the official mascot of Singapore. It symbolizes the city's humble beginnings as a fishing village.
Moving from India to Singapore will take some adjustment, but with the right planning and preparation, it can be an exciting journey. The city-state's reputation for professionalism, technological prowess, and multicultural vibrancy offers a unique experience that blends the familiar with the new, with exciting career opportunities to boot.
Contact AGS Movers India for a personalised relocation service that will assist you at every stage of your move to Singapore.