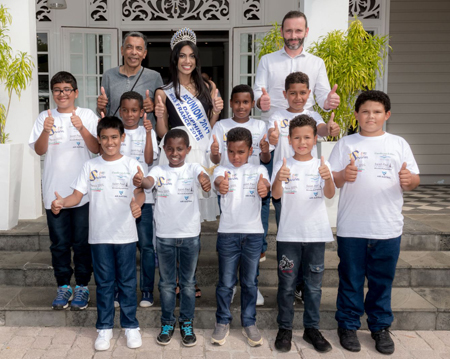 AGS Movers Reunion has teamed up with 1,000 Sourires (1,000 Smiles), a prominent non-governmental organisation on Reunion Island that organises entertainment events for children from disadvantaged backgrounds.
Ibrahim Ingar launched 1,000 Sourires in 2006 with the aim to broaden the horizons of children who have never had the opportunity to escape their daily circumstances.
Children take a journey to mainland France
In May this year, for the ninth time in twelve years, the organisation took a group of children on a trip to France. The nine little football enthusiasts undertook their first flight and enjoyed a programme fit for a prince during their stay in France.
From Paris to Marseille, travelling through Lyon and Albertville, they attended League 1 soccer games at the Parc des Princes and Vélodrome Stadium in Marseille, visited Disneyland, tested a helicopter simulator, ice skated, met famous personalities involved with the association, rode horses and swam in the champions swimming-pool at the Le Cercle des nageurs de Marseille.
The association also organises many events on the island throughout the year. Since 2006, 215 operations have been orchestrated, which were directed at the overall well-being of children. AGS Reunion has made a long-term commitment and will support 1,000 Sourires again next year.