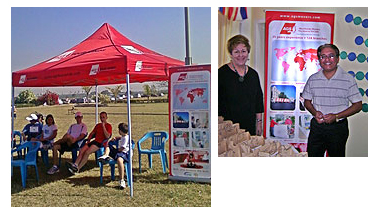 Sheer tenacity proved to be the winning formula for AGS Movers Hyderabad who has done an outstanding job of supporting its local community.
The branch took part in a host of local events since January in order to lend a helping hand to those in need.
Some of the events that AGS Movers Hyderabad supported included:
The International School of Hyderabad's Charity Fun Run, which raised funds for education in rural areas. AGS provided tents and sponsored the event, which was attended by the families of expat students.
Alliance Française and the French Embassy's "In Vivo" hip hop dance extravaganza, which showcased in three cities in India in February. The branch provided logistics for the event.
The Expat Association of Hyderabad's "Swap and Shop" event, where members of the association swapped and sold books, CDs and clothes for charity. AGS Four Winds Hyderabad seized the opportunity to support the event by distributing snacks and soft drinks.