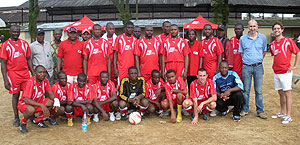 The sun shone brightly over St Michel college in Douala, Cameroon, when the newly formed AGS FC team amicably admitted defeat to Schlumberger FC on Saturday, 17 September, 2011, with a final score of 2-0.
While facing a strong team, AGS FC managed to stand their ground during the first half, before conceding two goals in the second. AGS FC is very motivated and hopes to come back to beat Schlumberger FC at the next game. The congratulations from the opposing team and its coach greatly encouraged AGS FC.
AGS Frasers Cameroon's AGS FC team will schedule another game soon, and hopefully this time will make the Schlumberger FC players tremble in their boots.
Thank you to everyone who participated in and supported our very own 'red and white'. We wish AGS FC much success for the future, and we heartily congratulate the Schlumberger FC team.