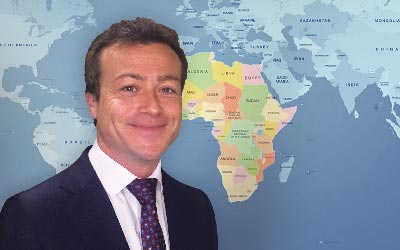 We are pleased to announce the appointment of Thomas de Mallmann, AGS Africa Desk Director, to the International Association of Movers' (IAM) Core Members Management Board (CMMB), as a representative of the Africa region.
The CMMB represents IAM members at the executive committee of the organisation. Its mission is to pass on the concerns and possible problems encountered by members in the execution of their profession.
After graduating with a Bachelor of Business Administration degree, Thomas joined AGS in 2003 as a VIE (International Volunteer in Enterprise) in Gabon. He later joined the company's internal training programme and managed several branches including Cape Verde, Egypt, Romania and Urkraine. Thomas was appointed Deputy to the Africa Director in 2008. He travelled intensively all over the continent and took an active part in the opening of new branches including the DRC, South Sudan and Mauritius.
Thomas took over the management of the AGS Africa Desk in July 2012. The Africa Desk offers our customers a single point of contact for the entire African continent, the fifty employees of this division manage an average of 8,000 operations per year and rely on the expertise of our 64 African branches.
Thomas sees this appointment as a recognition of his experience in Africa:
"I am very honoured by this nomination. During my 15 years at AGS, I was able to understand all aspects of the international moving industry. Africa is an exciting continent and I hope to contribute as a core member to provide a better understanding of its logistical aspects and the challenges that our industry may face on the continent."
Married and father of three little ones, Thomas has been living in Cape Town with his family since 2008. When his very busy schedule allows, this kind-hearted 39-year-old executive enjoys surfing, reading and exploring South Africa with his family and friends.