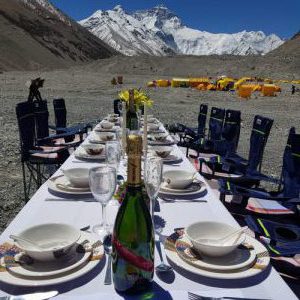 A touch of class was brought to the slopes of Mount Everest on the 29th of April 2018, as our esteemed colleague Andrew Elliman, member of The World's Highest Dinner Party team (and of AGS Movers London), took part in what is now a new Guinness World Book record, for the highest black-tie dinner ever organized.
The dinner took place at the North Col (7020 meters), where the team set up a dining table, crockery, cutlery, flower arrangements, champagne and an exclusive high-altitude menu designed by Sat Bains, a two Michelin-starred chef and one of the members of the previous team who attempted the expedition in 2015.
This world-record attempt was in the hope of raising £150,000 for the charity Community Action Nepal, supporting the mountain-dwelling people of Nepal and providing them life-saving aid and life-changing infrastructure. £100,000 have been raised so far and we, at AGS, are proud of Andrew's actions in favour of those in need.